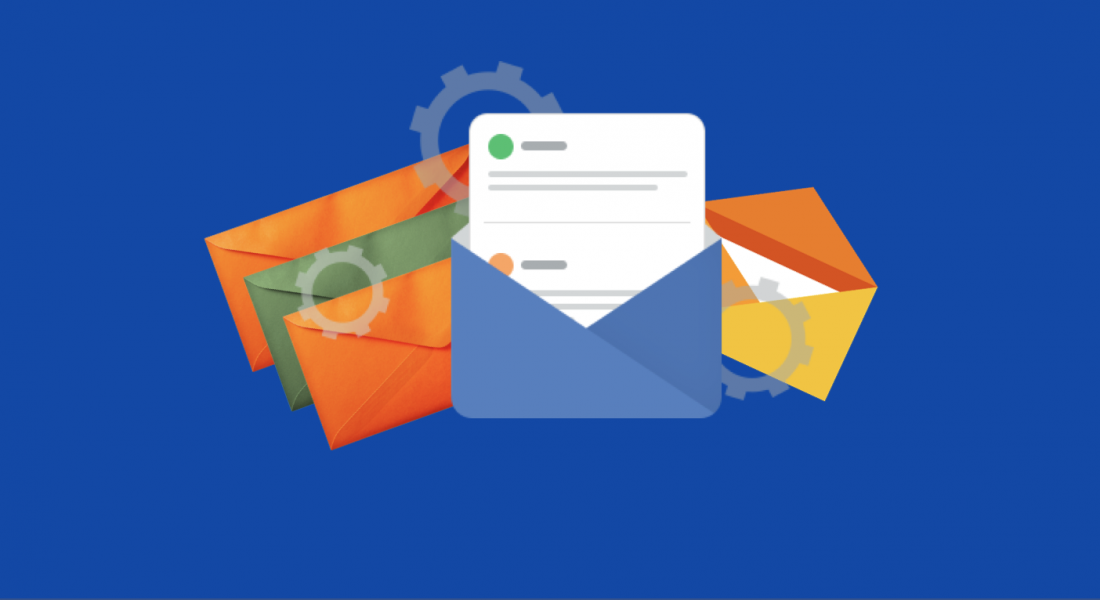 14 Reasons Why Email is the Most Meaningful Marketing Medium
Many believe that email marketing is becoming 'old school'. But this is far from the truth. Email marketing is still the most important form of marketing today.
The sad reality is that many businesses either don't understand the importance of email as a marketing tool or they do not use email marketing is the most meaningful manner possible. Either way, many companies are leaving a lot of money on the table.
Here are fourteen reasons you need to be taking email marketing seriously. These 14 reasons will show you that email is the most meaningful marketing medium to date and will most likely remain that way for many years to come.
1. Email Constitutes the Largest Digital Audience
The number of worldwide email users stood at 3.7 billion in 2017, according to Radicati. That means that more than half (54%) of the planet's population use email. And by the end of 2021, this will grow to reach 4.1 billion.
Projected Number of Email Users
This piece of data also means that virtually every Internet user has an email account. Consider that there are 3.88 billion Internet users (as at June 2017). That's 95.3% of Internet users having an email address.

Many email users also have more than one email account. The average number of email accounts per email user is 1.7 according to Radicati.
In 2017, the total number of business and consumer emails sent and received per day will reach 269 billion, and is expected to continue to grow at an average annual rate of 4.4% over the next four years, reaching 319.6 billion by the end of 2021.
2. Almost Everyone Uses Email 
Regardless of age, everyone is using email nowadays.
Data shows that in the US for instance, there is little difference between the younger and older generations when it comes to using email on a regular basis.
In 2016, 89.2% of Americans aged 15-24 used email on a regular basis. This compares to 87.5% for people over age 65.
The age group 24-44 had the highest propensity for using emails out of all age groups, but at 93.3%, it was only slightly higher than the other age groups.
Popularity of Email Use by Age Group

3. The Cheapest Form of Marketing
Apart from word of mouth, email marketing is perhaps the cheapest form of marketing. Sending emails is virtually free.
The only cost involved really, is in storing and automating the sending of emails and in creating content for your subscribers.
4. The Most Effective Form of Digital Marketing – High Conversion Rates and ROI
In a research study carried out by GetResonses in 2016, it was discovered that 21% of marketers across all industries believe that email marketing delivers an excellent ROI.
In fact, they consider  email marketing to be the clear leader in delivering the highest ROI, with social media coming in second with 15%.
Consider that emails get an average click through rate (CTR) of 3.57% compared to Facebook, which receives a click through rate of less than 1%.[1]
This means that if you expose 10,000 people to your content/ad, and it was sent via email, 357 people would most likely interact with your content.
On the other hand, less than 100 persons will interact with your content on Facebook.
In other words,  you have a greater chance of getting a sale through email than through Facebook.
If you were to build a strong business and then one day you were to lose everything and you could only take one business asset with you what would it be?
If you said your customers, then you'd be right.
How would you be able to take your customers with you? You'd have to be able to get in touch with them, right? And the most effective way these days to do that is via email.
So, in short, your most important asset would be your list of customer contacts, specifically, your email list.
6. The Most Personal Form of Marketing
With the latest email automation tools, you are able to personalize your email messages.
Imagine sitting in front of the television and an ad comes on and mentions you by name. Wouldn't you be more likely to take notice?
Alas, that's not possible, yet. But there is a way to remain personal and that's through email.
Autoresponders and email marketing software are able to include a field for the name of your contact. So, when sending a bulk email to 10,000 persons each one will receive your email as if you sent it to them personally.
7. Effective Relationship-Building Tool
Marketing is all about building trust and strengthening relationships with your leads and customers.
Email marketing is one of the most effective tools you can use to engage your contacts and create a lasting relationship.
Data suggests that someone needs to see your ad (in this case your solo ad or email) at least seven times before they trust you enough to buy from you.
Because email is inexpensive, you can send multiple emails with valuable content to your contacts over time. y doing so you remain top of mind.
Be careful not to inundate contacts with too much information in quick succession.
Once per week or once per month will suffice. The key is to offer useful content and to be consistent.
The technology today makes it so easy to automate email sending.
There are dozens of email automation over-the-counter products out there such as MailChimp, Aweber, SendLane, ConvertKit and much more.
Autoresponders allow you to set up emails in advance and schedule them based on pre-designed triggers, such as a specific date or time, or a specific action taken by your contacts.
With the automated technologies, you can even send one email to thousands of contacts simultaneously.
Imagine sending emails to contacts in a different time zone. If you were to do that manually you'd probably have to send out emails at 9 pm in the night to contacts in India, for instance.
But with email autoresponders, you can send emails literally while you sleep.
Most email autoresponders come with very detailed analytics that help you to measure, monitor and evaluate your various email campaigns.
You can carry out A/B split testing to determine what works best and what does not. Test the subject heading to monitor open rates. Tweak your content/email copy to test what content works and what does not.
For example, you can split your list in half and send a variation of your email to each group. Based on the performance you can determine which email variation worked better.
The metrics typically included in most autoresponder software are open rates (OR), click through rates (CTR), bounce rates, and unsubscribe rates.
Some even go as far as to show the date and time opened, what device was used to read the email (desktop, mobile, tablet), the geographic location of the recipient (even as detailed as the city and state), etc.
With this kind of data, you can perfect your email marketing strategy over time.
10. Easily Accessible – Real-Time Connection
Consider that emails can be easily accessed on multiple devices (desktop, mobile, tablet, etc.).
The fact that emails are being accessed via smartphones more and more these days create a virtual real-time connection with your contacts.
11. Targeted Messaging Using Segmentation Techniques
Email marketing can be easily integrated with your segmentation strategy.
By making slight adjustments to your opt-in forms you can create segments instantaneously.
Add questions on your opt-in to capture different contact demographic data, such as age, gender, geographic location, or interests. With this information, you can create segments off the bat.
This technique will help you serve your contacts much better as you can tailor content to suit their specific needs.
The more targeted you get the better your conversion rates will become.
12. Email is the Most Effective Form of Business Communication
A large majority of US adults (72%) prefer to communicate with companies through email. (MarketingSherpa)
Email gives recipients a sense of anonymity. They get to choose if, when and how the read your content.
They also get to decide if they respond or not. Recipients even get to decide if to unsubscribe from your list.
Email gives them a sense of being in control of the process. And that is why email marketing is so effective.
Ever wonder why people hate sales calls?
It's because there is a perceived lack of control over the process. No one likes to be impolite. So for many, hanging up the phone or telling marketers to piss off is not an option (although some do).
But hitting the delete button on an email is perfectly acceptable and easy to do – no social or moral dilemma there.
13. Easily Integrated with Other Forms of Marketing Initiatives
Email marketing can easily be integrated with other forms of marketing initiatives – both digital and traditional media.
Integrate social media with email marketing to grow your lead generation.
Or create sign up forms to get contact details for your next workshop or seminar.
Have prize giveaways at your next trade show in exchange for email addresses.
The sky is the limit.
14. Email is a Transactional Medium
At 72%, email typically outperforms traditional media in terms of consumers' preferred communication with companies for transactional purposes.
Consumers prefer email over postal mail (preferred by 48%), television ads (preferred by 34%) and print media, such as magazines and newspapers, (preferred by 31%).
Only 11% of consumers prefer mobile apps and just 7% prefer online video ads. (MarketingSherpa)
Preferred B2C Marketing Method by Consumers
[1] https://www.mailmunch.co/blog/…