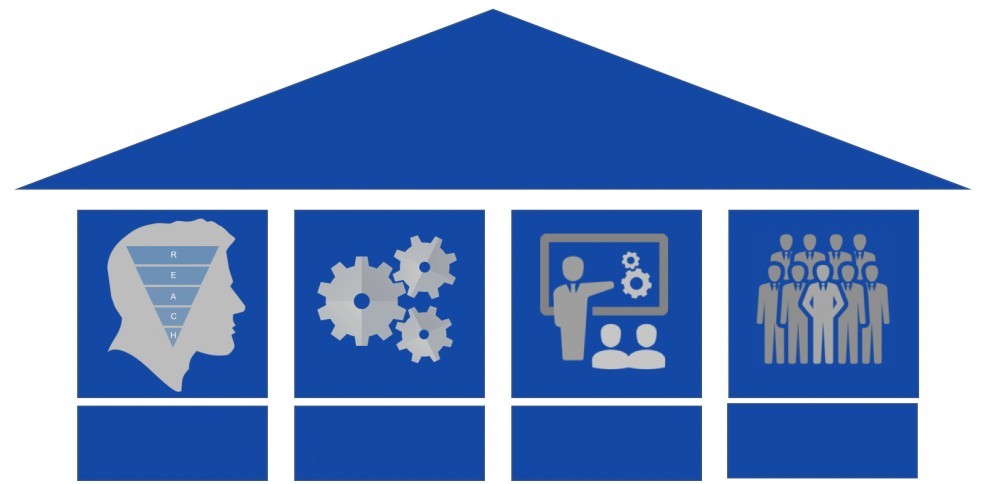 The Four Pillars of a Successful Online Business
There are really only four ingredients needed to create a successful business. These ingredients are indispensable. You cannot have one without the other, just as you can't have a house with missing pillars. If just one pillar were to break down, the entire house will collapse. Similarly, without even one of the four pillars, your business will crumble.
Online business success or any business for that matter, is not dependent on luck or good fortune. If your business is solely built on luck or accident then you are doomed to fail eventually. Look at many of the Dot Coms they were simply riding a wave of luck. Then luck disappeared and the bubble burst. 
There are many who build their business by default (accident or luck). But business success is really built by design. This article will reveal the 4 key pillars of online business success.  
Data conservatively suggest that more than 70% of new businesses fail within the first ten years, and 60% will close up shop in the first five years. These data lead many to think that business is purely a gamble. But it is not. Business is no different from any other aspect of your life. If you possess these four pillars nothing will shake your business or your life for that matter. 
1. The First Pillar – Mindset
Mindset is everything. This is by far the most crucial of the four pillars. Without the right mindset, you'd fail even before you begin. Let's face it, not everyone is cut out to be an entrepreneur. Not everyone has what it takes to build and run a successful business. 
We've been taught a big lie! When we arrived on this planet; when we emerged from our mother's womb as mere babes, we came hard-wired with a sense of joy, individuality, creativity, and wonder.  We came hard-wired for well-being and success. 
Our education system has compounded the lie. Our entire education system was designed to create employees and not free thinkers; not entrepreneurs. Consequently, we have been programmed in a particular way. We've all been told to, "Go to school. Get good grades. Graduate from college. Get a good job. Work hard. Get a promotion. Get a raise. Retire happy". That's the process that we have been programmed to follow from day one. We've been taught to place our lives in the hands of someone else (boss, government, church, parents, etc). Entrepreneurship, individuality and creative thinking are not taught as a result. We learn a formula, which we are then required to regurgitate at an exam and ultimately in life. Real-life lessons are seldom taught in the classroom.
I've interacted, communicated and dealt with a number of different individuals from all walks of life (different ages, stages, genders, nationalities, religious backgrounds, etc.). And I've seen many succeed and I've observed many others fail. And I've asked myself, "What causes some to fail and others to succeed?" It all boils down to mindset. Those who succeed have the right mindset for business. Those who fail have the wrong mindset. It's that simple. 
The REACH Method of a Successful Mindset
There are five dimensions you need to master in order to REACH the level of a successful entrepreneur. Understand these five dimensions and work on each one until you REACH deep within your mind to unleash your inner entrepreneur.
You need to work on all five dimensions of the entrepreneur mindset in order to be a true entrepreneur. Don't worry, though, you are already on the right path on your journey to REACH and master the entrepreneur mindset. 
i. Risk – As an entrepreneur, you are better able than most in dealing with risk. Keep developing your risk tolerance to REACH deeper levels of the entrepreneur mindset. You are able to take calculated risks. You do your research and due diligence. And are not overcome by analysis paralysis. Remember, you don't have to get it perfect. You just have to get it going. You typically more decisive than most and rely on your instincts. You need to strike a balance between instinct and intelligence. 
A real entrepreneur is not afraid of failure or losses. He knows he can start over. It's the way of life. 
ii. Expectation – You are typically able to set reasonable levels expectation. Too many people fail because they either underestimate what needs to be done or they are overly optimistic and come crashing down. Learn to achieve a balance between optimism and pessimism. Learn from others in your field on what are realistic expectations. Do you need 6 months, 1 year or 5 years to build a successful business? Don't get your hopes up too high. 
When things don't happen as planned you are not the type to lose your confidence and purpose to go on. You strive to win and succeed.
You have a tendency to have a clear vision and purpose for your self and your business. As an entrepreneur, you are striving to become a visionary. 
iii. Action – You have ideas and inspiration and are willing to take action to see them become a reality. Setting clear, attainable goals in alignment with your vision is not difficult for you. You'd be surprised at how many people cannot do this.  But you need to take responsibility for the outcomes of your actions, whether they are good or not so good. 
iv. Care and Community – This is a dimension of the entrepreneurial mindset that most people striving to become entrepreneurs fail to realize. You already have innate ability to reach out to others. You just need to REACH deeper and make a greater impact on others around you. You're not far off and a little effort will take you to the level you need to be at. 
Many so-called entrepreneurs are more focused on making money and less on making a difference. Both are important. Interestingly, those who make a difference in the world, build a name for themselves and gain credibility within the community. This, in turn, leads to greater profits in the long-term. Making a difference makes dollars and cents.
v. Happiness – Burnt out, stressed out, failing relationships, neglected families, poor health, no time for self, are all examples of a failing entrepreneur. A true entrepreneur is able to master the mindset of happiness. Happiness of heart, head, health and home. They find true fulfillment in leaving a legacy behind. This is your ultimate task as an entrepreneur. You need to REACH this level and master it. It won't be easy, but with time you can succeed. Fortunately, you already have the foundation to achieve and master this level of the entrepreneur mindset. 
Click on the link below to assess your entrepreneurial mindset.
===> Yes Kevon, Give Me Instant Access to the Mindset Assessment <===
2. The Second Pillar – Systems
Using the right systems is the second pillar needed to build a successful online business.
Without systems, nothing will get done. The Planet Earth is built on systems – the rotation on its axis, gravity, the water cycle, the eco-system, etc. These systems are integral to life on Planet Earth.
Similarly, running a successful business requires using the right systems. Knowing which buttons to click, what processes to employ and in what order. Some of these systems include a website and all of the bells and whistles that come with a proper working website – plugins, choosing the right theme, layout and structure, what content to add to your site, should it be responsive or not, what security software to include and so much more.
Another system is content creation. What are the do's and dont's of content creation? How frequently should content be added? What types of content should be used and when? Should it be text, images, video, webinars, etc?
Then there is Search Engine Optimization and Search Engine Marketing.
Social Media marketing is another example. What social sites to use, how often to post, what times of the day to post, what type of content to post. Social media advertising, such as Facebook advertising. What are all of the intricate aspects of Facebook advertising? How to use Facebook retargeting pixels?
The aspects of email marketing. Developing and executing a successful sales funnel system.
There are literally hundreds of systems that work together to make your online business run smoothly. There are so many and it can get daunting. Plus, I'm certain that you don't know half of these systems. You either don't know what systems to use. Or you know what systems to use but you don't know how to use them. That brings us to the third pillar.
3. The Third Pillar – Knowledge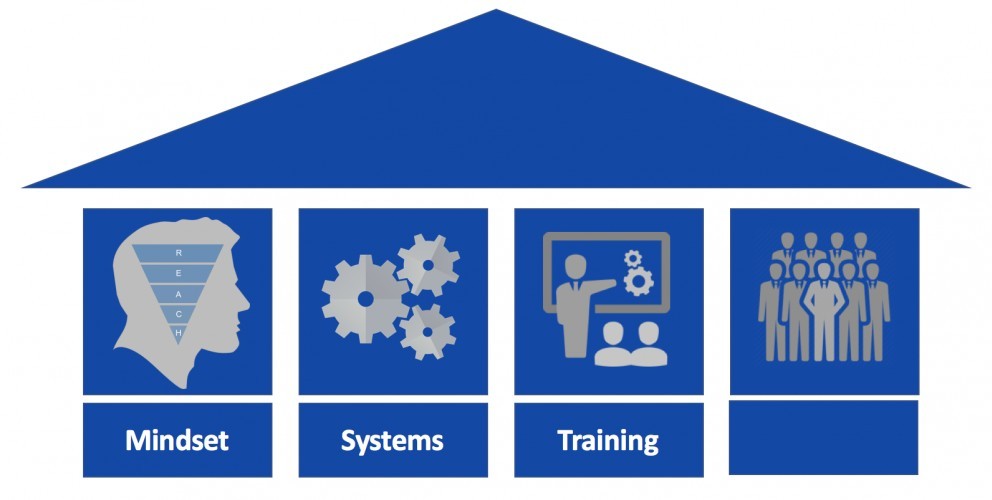 I hate to sound cliche, but it's important for me to say it, "Knowledge is Power!". We live in a world where those with knowledge are the ones who succeed. Those without knowledge are left behind. 
There are literally hundreds of places you can learn what's required to become a successful entrepreneur.
The challenge though, is knowing where to find the right training.
Often one platform may have training on just one or two aspects needed.
Others may be way too expensive. I once registered for training in quiz marketing and segmentation. This is just one aspect or one system that could be employed. This training cost me $2,000.
If I were to pay 2 grand for every system I need to understand then, that would literally cost be hundreds of thousands of dollars. Can you afford that? I bet not. 
4. The Fourth Pillar – Community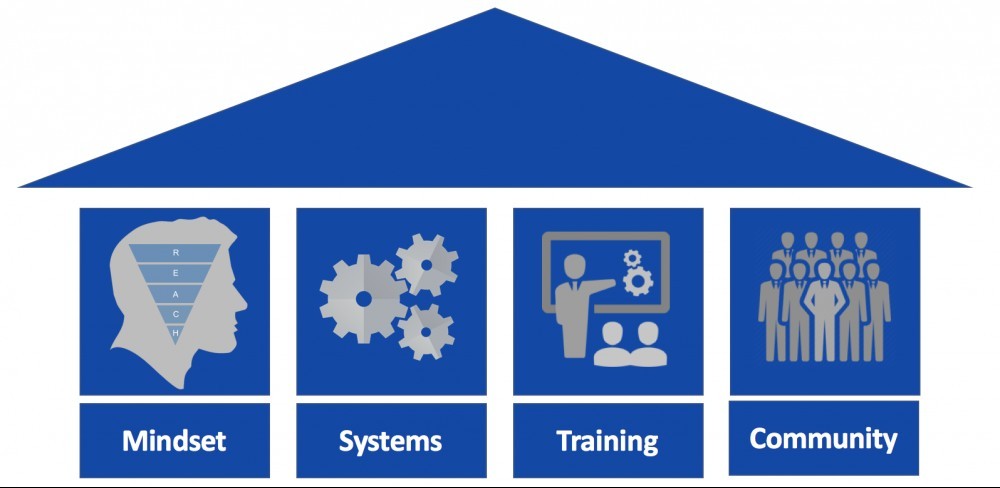 You might have heard the old African proverb – It takes a village to raise a child. In the same way, it takes a community to build a business.
If you think you can succeed on your own, you are dead wrong!
Building any business requires support from your community – your family, friends, investors, benefactors, and mentors.
If you are able to surround yourself with the right kind of people – people who will help you thrive as opposed to people who will only point out why this or that can't be done.
There's an 'I' in business but there's also a 'US' in business. It's that way for a reason. 'I' alone, without 'US' does not make a successful business.
The #1 Solution
The main challenge is that you often have to search different sources to help master these four pillars. And often they are quite expensive solutions. 
What if I told you that I've discovered the #1 solution that addresses all four pillars all in one place? Would you be interested in finding out more?
Click on the button below to start your free account at Wealthy Affiliate where over 1 million online entrepreneurs are learning to master the four pillars of successful online business.