Rome Wasn't Built in a Day – Why You Should Not Quit Your Online Business
False Expectations Make You Quit Your Online Business
Many people who venture into the online business world usually have skewed expectations about the results of their business. Many believe that they will begin to see results, namely make lots of money, in the first few days or weeks. When they don't see a dime, they get disappointed and either quit their online business entirely or move on to another project. Sadly they have the same 'make-a-quick-buck' mentality with the new project and the results end up being the same. It can become a vicious cycle. I have to admit that I too, am guilty of having false expectations of starting an online business. When I first started, I dabbled with a few ideas. But nothing really panned out – because I did not give my business time to grow – I didn't put in the time, effort or get the right training. It is typically understood that an 'offline' business takes about five years to really grow. So it should not be any different with an online business.
My Success Only Came When I Followed This Tried and Tested System
Following my adventures or I should say, misadventures, I decided to become focused and go for the long haul. But even then, my expectations were off. After 6 months of doing affiliate marketing on a part time basis and with no spending on advertising, I felt frustrated that I was not making any money to talk about. If I knew then what I know now, I would have stuck with it for a few months longer. In fact, by the 8th or 9th month (and that's after I threw in the towel – thank God I didn't delete my website), I started to see real traffic coming from organic searches. What I did not realize then, was that by following the tried and tested systems that Wealthy Affiliate had developed, systems that I learned through their training program, I had laid a solid foundation for my business to thrive. As the old saying goes, "Rome wasn't built in a day".
Basically, the foundation I had laid by creating a wide range of quality content around long-tail keywords began to pay off. I had used keywords that were low hanging fruits that I researched using Wealthy Affiliate's Keyword Research Tool – by far the best keyword research tool for SEO.  This was a system that has proven to work time and time again in my now, three online businesses. I never regretted investing in keyword research.
Building Content Using the Best Keyword Research Tool for SEO
The system I used and that many successful online entrepreneurs use, is to build frequent content around keywords with regular monthly searches but with low competition (that is, few competing websites using the same keywords – low hanging fruit). These keywords are significant enough to start bringing in traffic. All of my posts and pages were developed using this system that was tried and tested. I simply enter a possible keyword term around an idea I have for an article, post or page, of course using the best keyword research tool for SEO, then let the keyword tool show me the results. If there are more than 100 searches per month for that keyword and fewer than 100 competing websites are also using that exact keyword, then I know that it's a green light to go ahead and use it. Some suggest that you can use it even if the competition is below 200. But fewer is better.  I keep refining unlit I get exactly what I'm looking for.
If you build your posts in this manner then traffic from organic searches will begin to build over time. This is not a quick win but a long-term strategy that will definitely work without fail. Imagine having 100 posts around low competition keywords with sufficient monthly searches. Imagine also, that you get basic traffic for each post, let's say 2 visits per post/page per day (very conservative). Do the math. That's 200 visits per day or about 6,000 unique visits per month. Wouldn't you like to get 6,000 unique visits per month? Now, if you have 200 posts, then that's 12,000 visits and so on. So keep building content around well-researched keywords. That's a proven system that works.
The Best Keyword Research Tool for SEO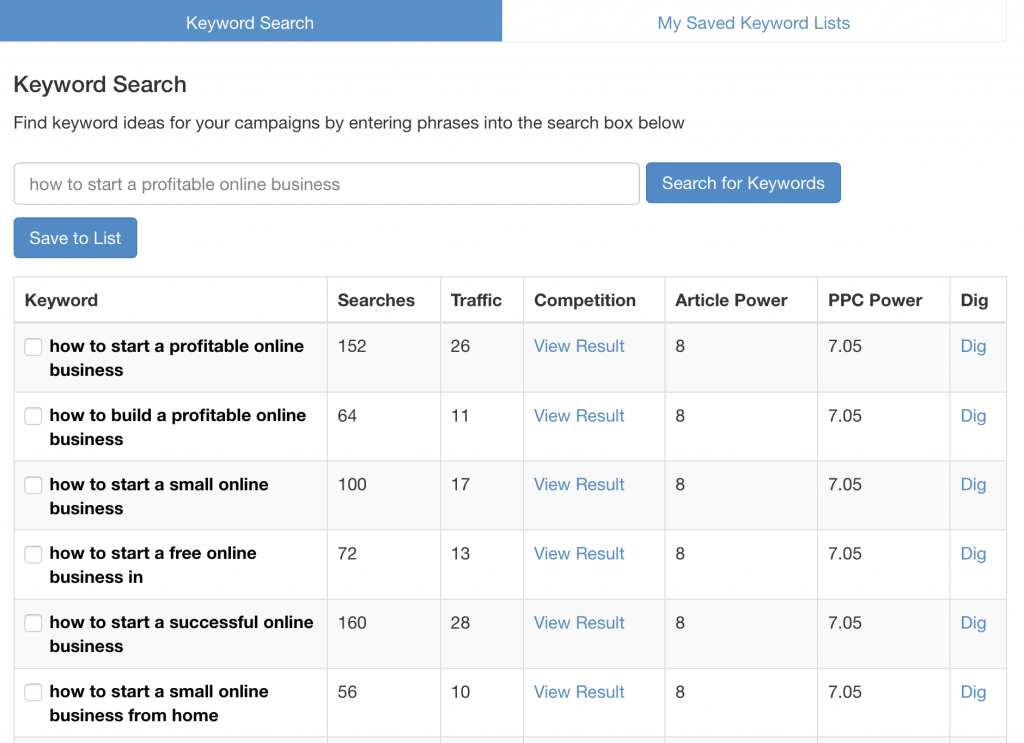 I was new to affiliate/online marketing and thus, was unaware of the gold mine I was sitting on.  Now, that I am a more seasoned online marketer (still learning), I work the system consistently and the results are a testament to its effectiveness.  Building your online business is about working systems that work for you.
So, don't quit your online business or blog just because you're not seeing traffic or money in the first few months. I'd advise you to stick it out. Build your systems and work them.
A Few Other Systems That Work
Here are a few systems and strategies to implement in the first year of your business to ensure long-term success. These systems and strategies are built on decades of experience that have proven to absolutely work every time. The systems/strategies you should implement before quitting your online business are:
Content optimization strategies – Build regular, high-quality, and helpful content.
Search Engine Optimization – Ensure that your website is SEO enabled and use low-hanging-fruit keywords
Social Optimization Strategies – Carry out effective engagement through comments, contact forms and social media tactics; and
Conversion Optimization – set up your website to make visitors want to buy from you.
The training I received on these systems came from one of the most reputable online business training communities in the world – Wealthy Affiliate.