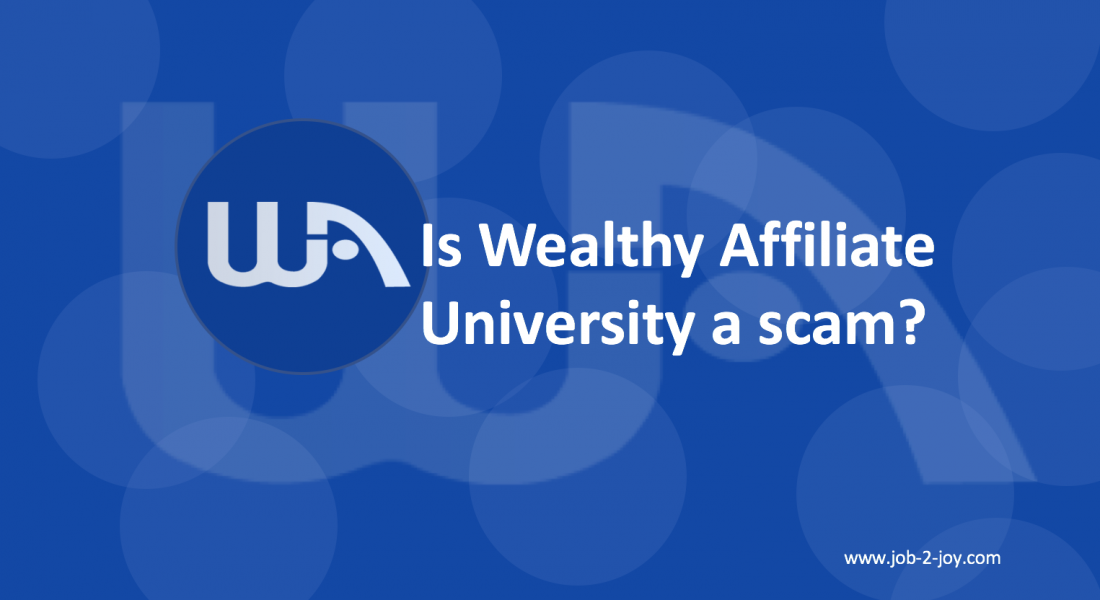 Is Wealthy Affiliate University a Scam?
Many wonder if the Wealthy Affiliate University is a scam. You are going to be spending a lot of time and money in developing and running your business online. So you want to make sure that whatever program you invest in will give you a high rate of return. This review will help you to decide for yourself if Wealthy Affiliate is a scam or not.
Name of program: Wealthy Affiliate University
Price: Free Starter Account / Premium Account at $49 per month or $359 per year (Save over $200 with the yearly plan).
Review Rating: 9/10
1. What is Wealthy Affiliate University?
Wealthy Affiliate is an online 'university' or community that provides everything you need to know about how to start and run a successful online business. At Wealthy Affiliate, you'd find training, support, tools, mentorship and a community of over 800,000 like-minded individuals to lean on as you develop and operate your online business.
For those who do not know, affiliate marketing is basically promoting other people's products or services online and earning a commission for every sale. However, there are a wide range of other ways to make money online, such as, selling your own products/service, setting up an online store, drop-shipping, developing a blog and selling advertising space on that blog, etc. But whatever your passion is, there is help for you at the Wealthy Affiliate University.
And although many call Wealthy Affiliate a university, in reality, it isn't but at the same time, technically it is. Unlike a university, you do not earn academic credits or get a university certificate indicating you have completed a degree or some academic achievement. That's why it's not a university. However, there are hundreds of courses in dozens of classrooms covering just about every online marketing topic conceivable. You can progress at your own pace following popular classrooms as the Getting Started Classroom or follow the weekly topics that are launched, e.g. Jay Neill's weekly live lessons.
Another way it is very much like a university is because of the camaraderie that exists at Wealthy Affiliate.  \One of the characteristics of my university experience was the ability to make connections with other classmates, share experiences both in and out of the classroom, and gain support from others. In that regard, Wealthy Affiliate is truly a university. There is a core community of like-minded individuals that can help you grow your business and teach you what you need to know to become a successful online entrepreneur. For example, there is a core group of ambassadors and a 'Top 200' group that are making waves online. Members of this core team are easily identifiable as Wealthy Affiliate members are ranked. Anyone with a rank of 200 or less is in the top core group. And as a premium member, you can email, chat with, follow them, ask for help, watch their businesses and copy what they are doing. It doesn't get better than that. I remember doing case studies at university. I found that this form of learning was most effective. So just take one or two of these members and watch them like a hawk. Make them your case studies and learn from them. You can't go wrong.  I did exactly that with two top members and I haven't regretted it since.
Overview of the Wealthy Affiliate Certification Training Course

2. Is Wealthy Affiliate University a Scam?
Wealthy Affiliate is not a scam. And I can personally attest to that. Here's my experience with Wealthy Affiliate. I've tried all sorts of online and offline business opportunities and many have been legitimate in the sense that they meant well, but somehow failed to deliver on their promise. In addition, as you are aware, there are a lot of scammers out there telling you that you can get rich quick or asking you to fork out a fortune in order to make real money. If anyone ever promises you the moon and stars, you need to run as far away from them as possible (in all areas of life).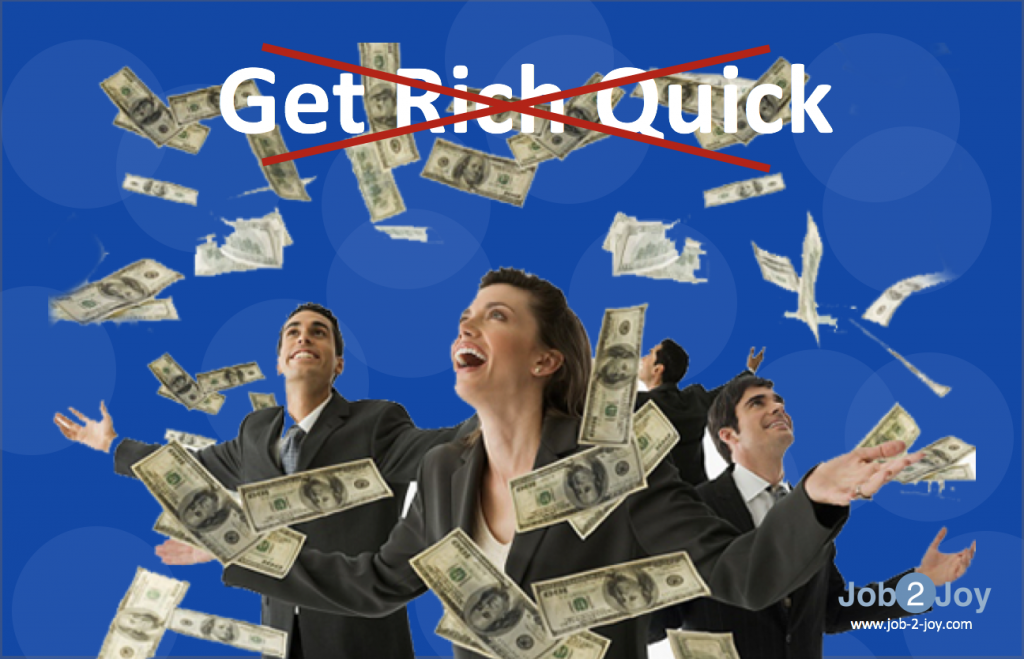 One of the first impressions I had about Wealthy Affiliate was that they were not promising anything except support and training. They encouraged hard work, insisted that you follow the training to a 'T', and urged you to be consistent and committed in order for you to achieve success. They kept your options open. You could pick any field or passion, as they call it, and make a business out of it – whether it was selling bean bags or electronic toothbrushes or beauty products or your own e-book or whatever you desired. I found this to be refreshing. You could also become an affiliate and sell the Wealthy Affiliate products, but they never once made me feel as if I had to.
Also what stood out at the start was that they offer full access and benefits of a premium member in their 7-day trial without ever asking for my credit card. I'm sure you've had the experience of being offered a free trial only to realize that they needed your credit card details in order for you to get the free trial. I've had a couple experiences where I enrolled into the free program, provided my credit card details as part of the registration for the free trial and forgot about it. After about a month or so later a deduction against in my credit card showed up on my statement. Did that ever happen to you? That always pisses me off and I'm sure you would have had the same reaction. But at Wealthy Affiliate, you can try and test the program for as long as you want using a free account without ever having to disclose your credit card details. You get a 7-day trial for the premium version but you can keep the free account for as long as you want if you decide not to go premium. Of course, you only get limited features but it's nice that they never push you into becoming a premium member. You only use a credit card or PayPal if and when you are ready to buy. In fact, I remained a free, albeit inactive, member for a few months before coming back and deciding to join as a premium member. At the first time, I was not ready to start an online business. But it was comforting to know that I had not spent a dime and Wealthy Affiliate gave me all the space and time in the world to make my decision.
In fact, during those dormant months I never once received spam emails pushing me to join as a premium member. And I discovered later on, that spamming is not tolerated at all at Wealthy Affiliate. I've heard stories of members either losing some privileges or being denied membership entirely for breaking WA's spamming policies.
3. How Does Wealthy Affiliate Work and What to Expect?
Signing Up for Wealthy Affiliate
The inner operations of Wealth Affiliate are really simple. Wealthy Affiliate combines a really powerful online platform with a number of tools that help you to grow as an entrepreneur and to set up your online business. When you sign up for your free account, you get instant access to the premium version to try out for seven full days. Signing up is easy. It took me about 20 seconds to do it. Just provide your name, email address and choose your login credentials. You get to a welcome page and given clear and simple instructions on how to navigate Wealthy Affiliate. There's a walk through video and a video on how to set up your account. This entails the first lesson of the Getting Started certification course. Level 2 will take you right into online marketing training – a basic overview of making money online.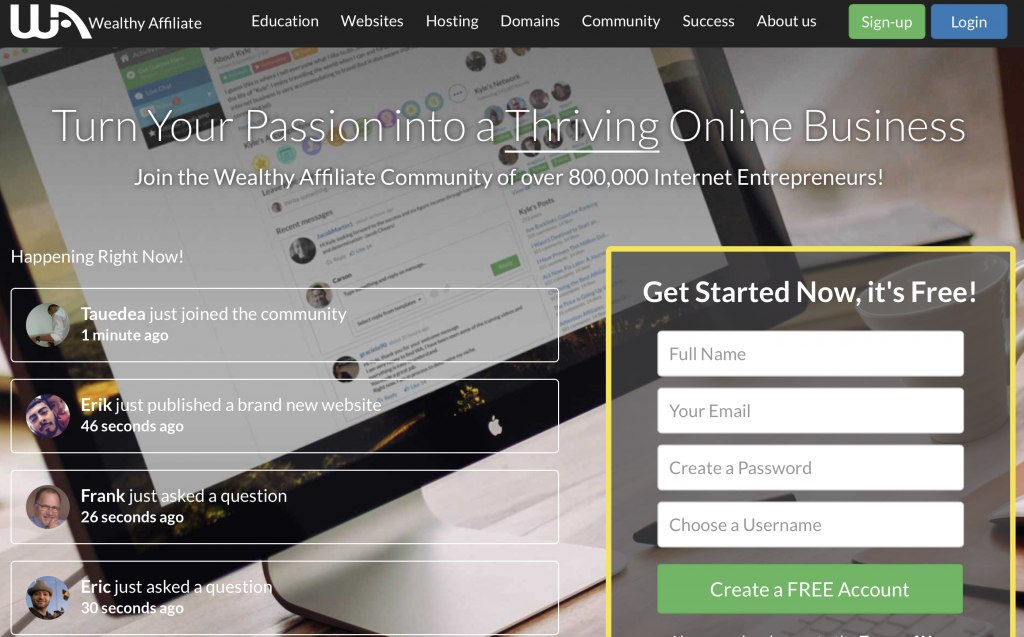 Training Options at Wealthy Affiliate
At Wealthy Affiliate University there are a number of options for training. First, there is the Certification Course program. This is where I recommend you to get started. The Certification Course program comprises 5 levels with 50 lessons and 172 practical tasks to complete, including setting up a website, adding certain features such as Google Analytics, and so much more. There are step-by-step tutorials on how to carry out the different requirements in setting up your online business.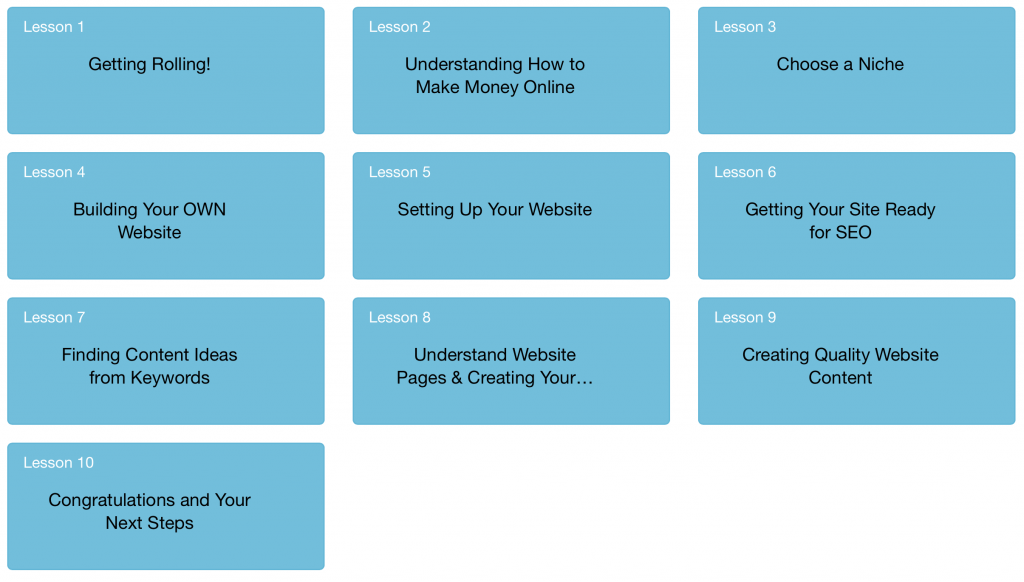 Affiliate Bootcamp
In addition, there is the Affiliate Bootcamp. If you decide to become an affiliate promoter of Wealthy Affiliate, there is an entire training program developed for this specific area. The Affiliate Bootcamp includes seven (7) phases with a total of seventy (70) lessons and 230 practical tasks to guide you along as you become an affiliate member.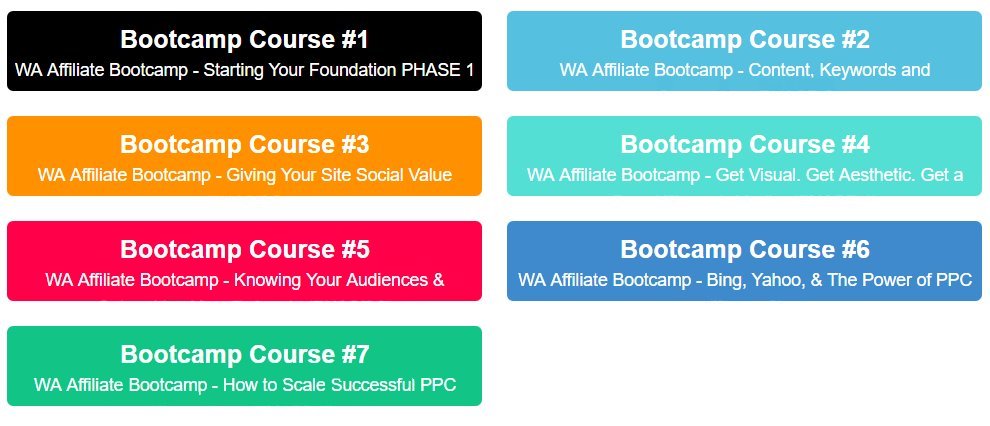 Live Weekly Videos
Another very key area of training are the weekly live videos. The videos are aired live each week, usually on a Friday. There are hundreds of videos dating as far back as September 2012 (that's five years of weekly videos). They cover a wide range of topics and are very interactive and practical in nature.
Support from Fellow Entrepreneurs
Apart from the training, one area that's really super is the support you receive. With the Live Chat feature, you are able to have discussions with your other Wealthy Affiliate members. You can ask for help on certain topics. You can use the SiteFeedback feature to ask others to review your website and offer feedback. You can also even ask other members to go on your site and post comments. (You know that the more comments you have on your posts the better they rank in Google). As a premium member, you are also able to directly email other members, including the owners Kyle and Carson. They always try to answer all the emails they receive and usually offer practical advice where possible or at the very least point you to the appropriate training available that can help you.
4. Who Owns Wealthy Affiliate?
Wealthy Affiliate was founded by Kyle and Carson, two upstanding Canadian guys who like you and I were looking for solutions to improve their own online business success. They also had a passion for helping others charter the choppy course involved in building an online business. They have invested millions (literally) in developing what could be considered the #1 online training platform for online entrepreneurs – Wealthy Affiliate. They co-founded Wealthy Affiliate back in 2005. Many of the tools, platform design and software as well as the training, are a reflection of Kyle's and Carson's own experiences as online entrepreneurs. Many of the techniques have been tried and tested personally by these two gentlemen in their own online businesses. So you can feel safe knowing that the training works.
I've had personal interaction with both of them, mainly Kyle. From my experience, they are down to earth, hard working, genuine and upstanding guys. In my few years of being a Wealthy Member, I have never had any negative feelings about these guys. I personally vouch for their integrity.
Wealthy Affiliate Founders – Kyle (Left) and Carson (Right)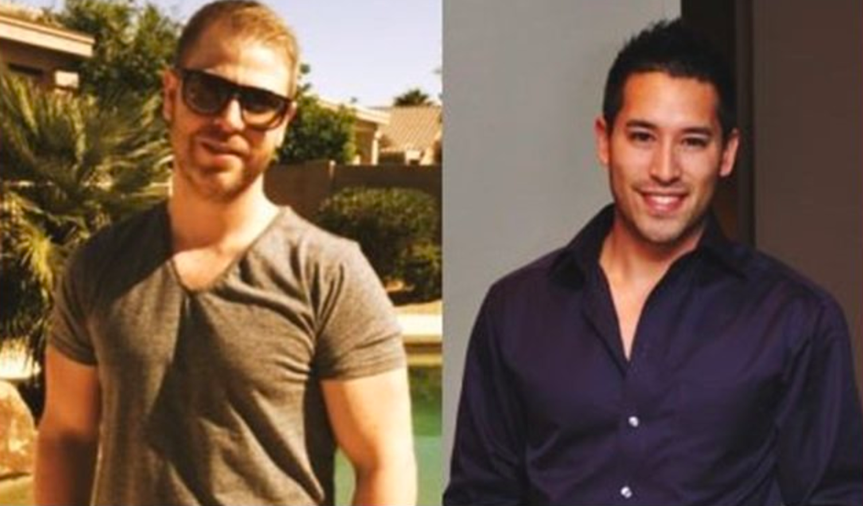 5. Can Wealthy Affiliate Really Help Me Make Money Online?
The million dollar question you're probably asking right now is whether Wealthy Affiliate can help you make money online. And the answer is… drum roll please… YES!  First of all the practical training helps guide you through the steps needed to set up and monetize your online business – from choosing a niche, setting up a website, picking a theme, using WordPress, building content, optimizing your content for search engines, using low hanging or long tail keywords, monitoring and tracking performance of your site, driving traffic to your site, and much, much more.
In addition, Wealthy Affiliate offers you a direct opportunity to become an affiliate member of WA. Affiliates get $23.50 for each sale and $ for every referral free account sign up.  Hundreds of online entrepreneurs all over the world are making full time income promoting Wealthy Affiliate. It's a legitimate product and there are virtually no negative reports or reviews of Wealthy Affiliate, so it's a relatively easy sell.

6. Who Can Join Wealthy Affiliate?
Literally, anyone can join Wealthy Affiliate. All you need to have is Internet access, access to a computer or other appropriate device (mobile or tablet) and an email address. That's it. I've met people from all over the world – India, China, New Zealand, Australia, USA, Canada, the Caribbean, South America, Africa, Europe, United Kingdom, etc. There's almost someone from each country on Wealthy Affiliate (almost). I've chatted with members who were mere teenagers, others who were retirees, unemployed people, 9-5 working class people, business people, students, men, women, people of all racial types, ethnicities, sexual orientation and cultural backgrounds. So you don't have to be of a particular group or have certain traits in order to be a Wealthy Affiliate member.
7. How Can I Become A Member?
Joining Wealthy Affiliate is really simple. Just click on the following link and it will take you to the Wealthy Affiliate sign up page. Join me on the inside and I'll send you a personal email on how I can provide you with additional support. Support that only a few members at Wealthy Affiliate currently benefit from. This offer is limited. Only the first 20 persons this month will benefit from this special offer. Click here to see what the offer is and to join Wealthy Affiliate.
8. How Much Does it Cost to Join Wealthy Affiliate?
There are various options in terms of costs involved in joining Wealthy Affiliate. First of all, it is absolutely free to get started at Wealthy Affiliate. They will NEVER ask you for your credit card until you are ready to become a premium member.
As a premium member, your first month will cost you $19. Following months are $49 each. You can also upgrade to yearly membership (recommended) which costs $359. With yearly membership, you'll save $229 per year. That's over 4 1/2 months (20.3 weeks) free membership. Going yearly is recommended because it forces you to be committed to your success and to treat your online experience as a real business. People who go yearly have shown better results. Commitment is one of the key success factors to your success.
9. What Do I Get for My Premium Membership?
When you become a Wealthy Affiliate Premium Member here's what you'd get:
Access to one of the most powerful online platforms for building your online business
Access to hundreds of training lessons – 50 classes in the Certification Course, 70 lessons in the Affiliate Bootcamp, 52 Live Weekly Videos, hundreds of training classes in the Open Education program
Powerful and Secure website hosting – 25 Free SiteRubix Websites and 25 own Domains
Access to hundreds of WordPress themes
A Site Management tool that facilitates WordPress editing
Lots of software for security, prevention of spamming, SSL, privacy, and much more
Website Monitoring software – Database monitoring, malware monitoring, virus monitoring, filesystem monitoring, hacking and intrusion monitoring
Plus you get notification of your Site Performance or Site Health – based on your frequency of content post, how many comments received, how you respond to content and much more, Wealthy Affiliate will tell you if you site is healthy or if you need to do more work on it and specifically what areas need to improve, e.g. you may have too many plugins which slows down the performance of your site and so on.
Access to a community of 800,000 like-minded entrepreneurs. This community involves a Live Chat feature, ability to directly email other members (including the owners), Feedback on your website and free Comments on your site using a pay-it-forward system
Access to Tools, Tools and more Tools including – a Keyword Research Tool, a Content Editing Tool, a Link tracking Tool
24-hour Customer Support
All of the features, tools, training and web hosting combined are worth thousands of dollars and Wealthy Affiliate gives it all away at a cost of just $49 per month or $359 per year.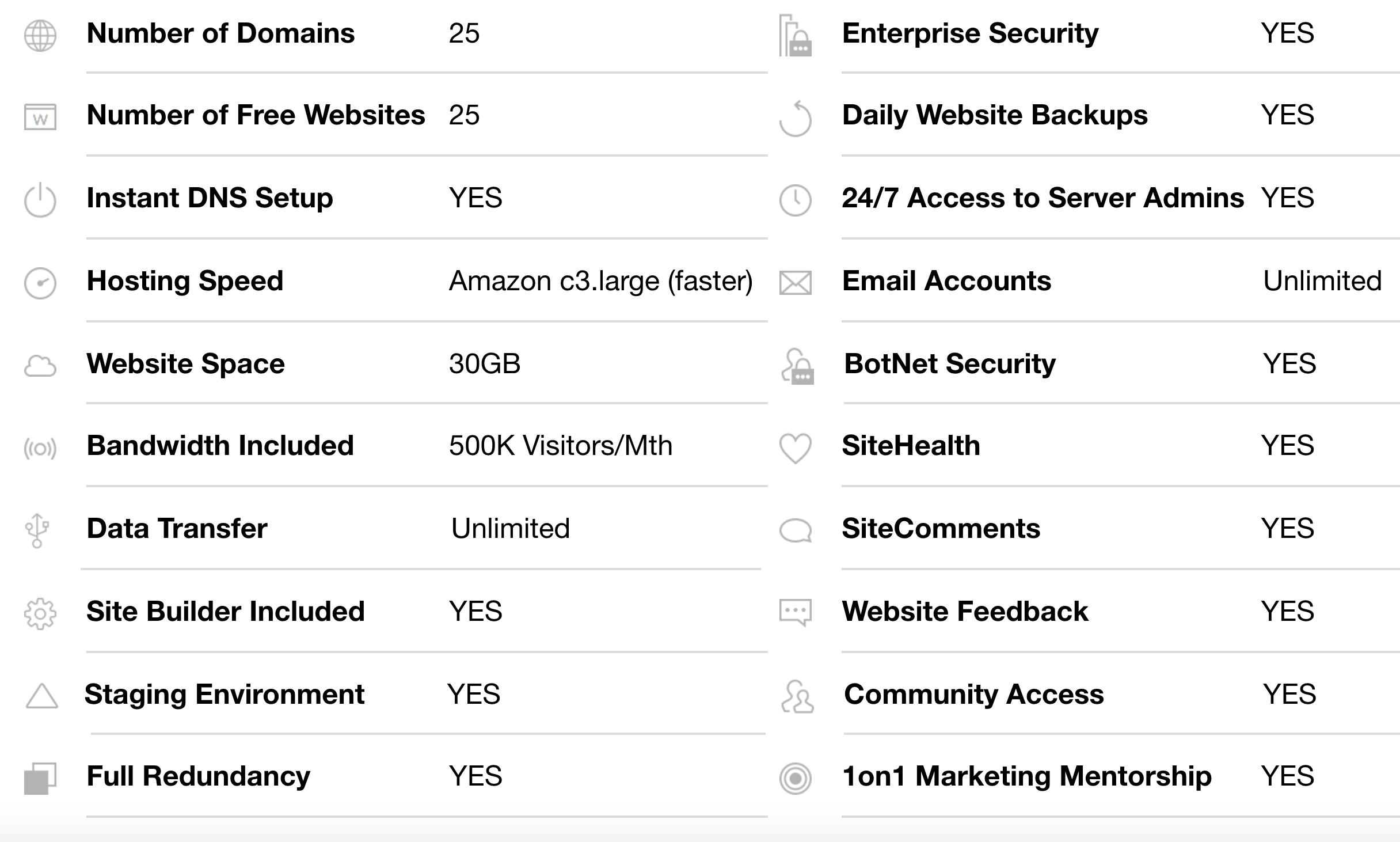 10. Are there Other Online Programs Like Wealthy Affiliate?
There are other online training and community support programs out there but, I haven't found a single program with all of the features, tools, wide range of training, support, community involvement or price level like Wealthy Affiliate. I have found programs that focus on one specific area of training, e.g. driving traffic to your site or SEO development. I have also found sites that offer community support, such as the ASK Method Community which uses Facebook groups. But it cost $200 per month to be a part of that group, and no training or tools or features are included for that $200. That's four months at Wealthy Affiliate. Some programs ask you to fork out thousands of dollars for their training. Bob Proctor (a guy who appeared on the Secret video) wanted me to pay $25,000 for a one year coaching program. Are you kidding me? Now compare $25,000 with $359. That's a no-brainer right?
So you draw your own conclusion based on the evidence provided. Do you think Wealthy Affiliate is a scam? Let me know what are your thoughts. Post a comment below or follow me on Facebook.
Click here to view another review I did on Wealthy Affiliate taking a different perspective.