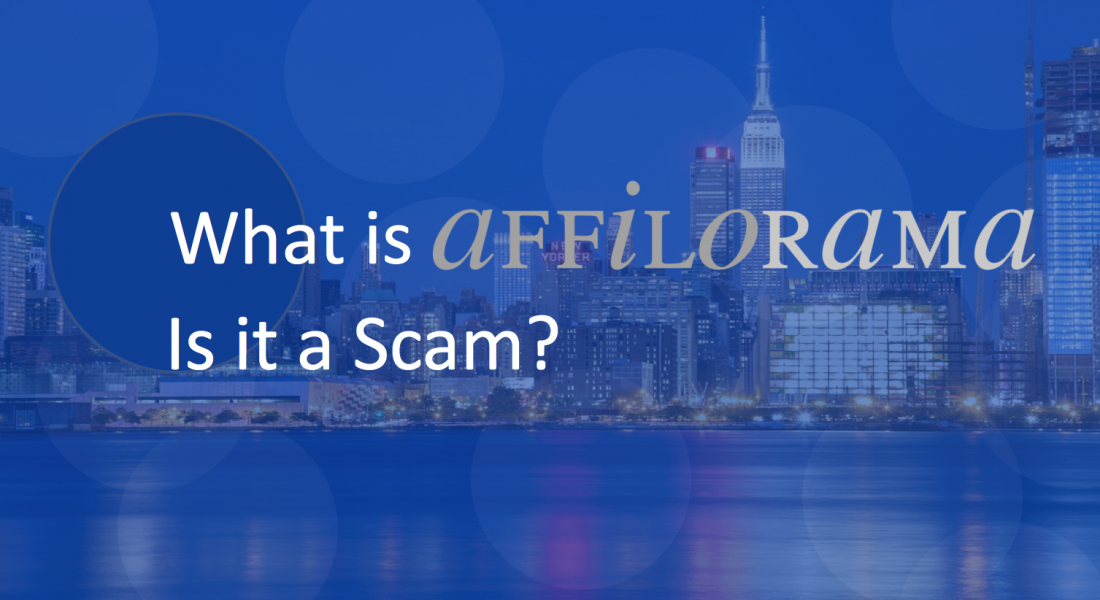 What is Affilorama – Is it a scam?
If you've landed on this page you're probably considering getting involved in Affilorama, but wondering whether it's a legitimate program or some sort of scam.
Here's a quick review of Affilorama:
Name: Affilorama
Founder: Affilorama, founded by Mark Ling in 2006 and co-founded by CEO Simon Slade.
What it is: A platform teaching people how to make money online as an affiliate marketer.
Price: Varies from Free Membership ($0 lifetime) to Premium Membership ($67 monthly). There are other stand-alone products costing $97, $197, $997 respectively.
My Verdict: A legitimate program offering real value for beginner and experienced online entrepreneurs alike.
My Rating: 7.5/10
What is Affiliate Marketing?
Affiliate Marketing, is a marketing system whereby you can earn a commission when you promote someone else's products online.
Simply put, you set up a website or send out emails to your mailing list and include a special, unique link in the content.
When someone clicks on that unique link and make a purchase of the product offered by the merchant, the sale is tied to that unique link, your unique link.
You then earn a commission and the merchant sends you a check in the mail or pay you through PayPal or a direct payment to your bank account. This is usually done on a monthly basis.
While simple at the outset, there are a lot of systems and processes you need to learn to really grow a thriving business through affiliate marketing. These include:
Selecting an appropriate niche;
Building a website;
Creating proper content around your selected niche;
Keyword Research;
Optimizing your content for Search Engines such as, Google, Bing or Yahoo;
Email Marketing, Opt-ins, and Auto-responders;
Social Media Marketing – Facebook, Twitter, Google Plus, Instagram, Tumblr, Pinterest, etc;
Sales Funnels – Landing pages, quizzes, conversion strategies, etc;
Pay Per Click Advertising for Google and Bing;
Website Analytics; and
So much more.
You need a platform that has training on a wide variety of topics (preferably everything you need to know). However, trying to learn all of these important systems on your own can be daunting.
Affilorama is one of a few platforms, that has really been able to put virtually all the important training topics under one digital roof.
In addition to combining all the training in one place, there is also a community of like-minded individuals who chat, hang out and support one another in growing their business.
Affilorama, as an online marketing training platform, focuses on teaching affiliate marketing using the internet as an outlet through systematic and straightforward video lessons.
Using video is a very engaging teaching strategy, so if any of you get bored fast, this will surely keep you awake. It is for anyone, no matter the level of skill or experience in affiliate marketing.
Affilorama is also a very interactive website. There will be pop messages from the marketing strategists or other persons involved in the development of the website. Also, they use a lot of imagery and examples to convey information about making money which is intriguing, the website is engaging and very user-friendly.
Is Affilorama Pricey?
Affilorama offers a free membership covering a few of the basic topics to get you started.
However, if you really want to get a proper handle of what is needed to build and grow a solid online business then you'd need the Premium membership package. This will cost $67 a month but you can start risk free for just $1 for the first 30 days (offered only within your first 7 days of signing up).
Even after choosing the free trial, the premium membership offer shows up on your screen with a 7-day offer expiry countdown.
Additionally, they remind of why you should choose premium membership, for instance stating that it includes advanced training or that it just costs $1.
What I have noticed though is that the main tools in affiliate marketing come at a price. Before joining the first thing that came to my head was "Oh it's free" and after joining "Oh premium membership is just $1", but after browsing through the website I realized that the tools are expensive.
So, it comes like it's not really a "free" or "cheap" website. But you know it is a choice to either buy the tools or not. In my opinion, it isn't necessary. The training, i.e. the video lessons are quite substantial. So, I guess you must be smart about it, they can sell anyone by doing that, which in itself is good marketing.
Affilorama Product Types
There are a number of products offered in addition to the Free and Premium membership. These include Affilotheme, AffiloBlueprint, AffiloTools and AffiloJetPack.
1. Premium Membership – Affilorama charges $67 a month for its premium membership. While you do get a lot of good quality training, I personally believe that this is a bit pricey.
I know of another affiliate marketing training platform that's a lot cheaper with way more training and plenty more features.
2. AffiloTheme – a website building tool with built-in themes and tools for WordPress.
You get access to a special members' forum plus custom graphics and free web hosting for one year. You can use AffiloTheme on multiple websites.
You also get special training to help you use the product. It's a one time fee of $97. You can get it whether you're a premium member or not.
3. AffiloBlueprint is a systematic course on the process of building money-making websites. This is a 14-year developed system, which confirms its reliability.
The website itself is very market driven, i.e. it is good at promotion and persuasion for people to purchase, or use the products even if it is free.
After looking at the training, I really don't believe that there's a real need for it if you already have a premium membership. But that's my opinion. It's entirely up to you.
4. AffiloTools – this is something you must purchase but it allows you a free trial, so you can test the waters. AffiloTools aids in managing your website; giving you advice on how to gain traffic to your website, as well as providing ways to target audiences that you want.
Again, if you use the free and fantastic services provided by Google Analytics and Google Webmaster Tools, I think you could do without the AffiloTools. But again, that's just my personal preference.
5. AffiloJetPack – like it is stated online "your serious shortcut to big-time." It involves autopilot emails, helping you gain a huge number of subscribers, building a website for you and so on.
It's basically a ready-made online business solution for those who are too busy or who just don't want to get bogged down by learning something new.
The website states that without this system, you can end up not making money. In my opinion, I believe, they just want you to purchase it, because why firstly say that anyone can earn money with just the video lessons and then pessimistically say that without the AffiloJetPack tools you may be subject to failure?
Why sell the premium membership at all, if without the AffiloJetPack you may not earn anything? Sounds a bit off-putting to me. Seems like just another upsell.
The other issue is that when you get your hands on the clay and start learning the ins and outs of building your online business from start to finish you'd get a great advantage over others who take the easy way out.
You'd truly become an online marketer. And once you learn to build one business you can build multiple businesses and it gets easier over time. 'JetPackers' may stand to lose out in the long run. The AffiloJetPack comes at a hefty price of $997.
I know of another online platform where you could get nearly 3 years worth of premium membership for that amount of money.
I honestly believe I can go without any of the above "add-ons" especially considering how expensive they are. I would recommend though, to use the free trials, only because it is free.
A few people have stated that it is worth the money. One person stated that his initial thought was this thing is quite an expense, but after purchasing he realized that he would have ended up spending a lot more on persons to do graphic designs or emails.
Another's view was that it does everything for you, so you can spend time on other things. So you should also consider that, in making your decision.
Who is Affilorama For?
Thinking about who uses Affilorama? Many people around the world. Over the course of time, it has grown to approximately 300,000 members. In comparison to other marketing websites, 300,000 is a relatively small number but it is still a great number.
Wealthy Affiliate, another marketing website that was founded around the same time, has over 900,000 members. Just in case you did not realize, Affilorama is not the largest affiliate marketing community as the site claims. This is probably one reason I may not recommend this program.
But it's not just about quantity, quality is important too. And after trying out some of the training, though the quality is good, I've seen better. Some of the training is outdated. For instance, there was a training video about Squidoo.
As you may know, Squidoo was acquired by HubPages in mid-2014. So why would I need to learn about the importance of Squidoo when the site no longer exists. This is just one example.
Another reason I may be inclined to not wholeheartedly recommend this platform is that it's a bit expensive. I will not invest in training when I know there are better options I can choose from.
Before you think, "Okay well I'll choose another website", Afilorama has many good reviews. Most of these reviews express why you should use it and not why you should not. I do not believe it is a scam. It is indeed a legitimate platform where you could learn how to create an online business using affiliate marketing.
Is Affilorama a Scam?
No, it is not. Let me tell you why?
It offers you a free trial, it does not ask you for money off the bat which most scam sites do.
Then it offers you only $1 for a 30-day trial of the premium membership. Scam sites don't give you a chance to experience their product before you buy.
Many top affiliates use Affilorma which confirms its legitimacy.
Affilorama received numerous awards for its growth and achievements from reputable and famous institutions.
The emails Affilorama sends, yes some are product promotions, but others are based on things that will be informative to you in earning money online. So, for instance, I recently received an email stating that I missed an online seminar on important facts done by an eight-figure marketer. You don't just earn 8 figures just like that, you must be someone very reputable and successful. Additionally, they gave the key points of what I missed on his 5 steps to get a 6-figure income.
Another thing I realized about Affilorama is that they email you at least once a day or every other day giving you tips or sending information on whatever training they have on affiliate marketing.
They have a contact on their website before you join so that you can ask questions, which in my opinion is very unlikely for a fraudulent website to do. Also, if scammers do have a contact number it is on most occasions, invalid.
It shares persons' experiences of using Affilorama.
You can message the owner (although you are very unlikely to get a response, at least not in a timely manner).
Finally, I may have mixed views of Affilorama, but I believe that it is a good website and will help anyone build an online business. I mean there are free trials, so if you don't appreciate it, you can always decide whether you would like to continue using it or not. So, I recommend anyone to at least try it.
However, if you don't have time to waste trying something out that you may not buy, why not have a look at my #1 recommended training platform. It has more training and is a lot cheaper that Affilorama.
Click the button below to find out more.