What is MOBE – My Own Business Education – Is it a Scam?
Name: My Own Business Education (MOBE)
Website: www.mobe.com
Price: $49 + 19.95/mth + upsells (up to $29,997)
Business Location: Malaysia
Owner: Matt Lloyd
Recommend For: People Who Can Pay a High Price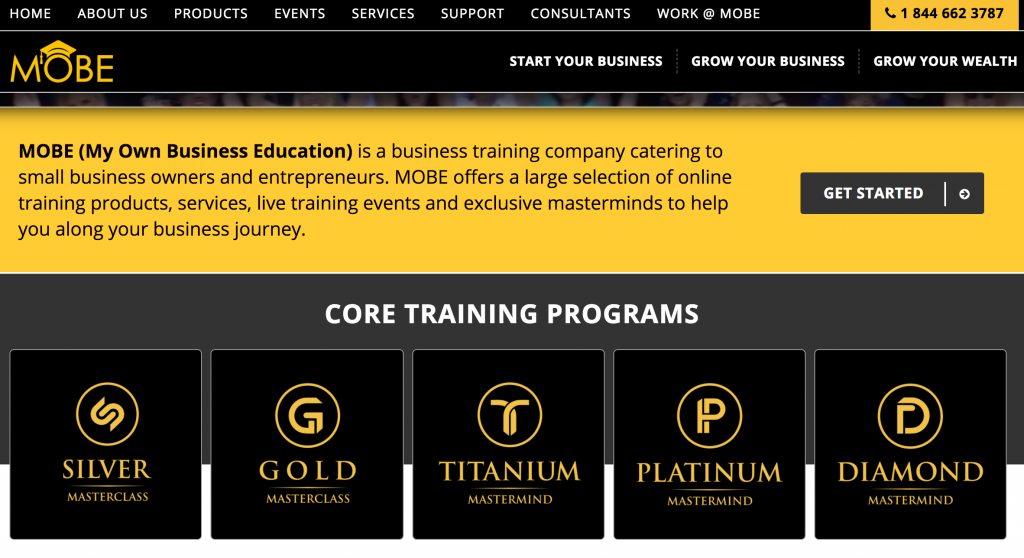 Is MOBE a legitimate online business opportunity or is it just another scam? This article will help you draw your own conclusions by presenting the facts. To really get an understanding of MOBE you'd have to spend some money registering for the program, which involves a 21-step training program. But before you get to that point you'd need to do a little research and I am here to help with that.
What is MOBE?
MOBE stands for My Own Business Education. It was formerly called My Online Business Empire and is also known as My Two-Tier Business or MTTB. I first got introduced to MOBE/MTTB purely by accident. I was doing a bit of research on some of the top online entrepreneurs. I wanted to follow their businesses and see what made them successful. One of the names that came up was John Chow. He is a multi-millionaire online entrepreneur who runs multiple online businesses using different business models. One of the models he uses is selling licensed products. And one of those licensed products was MOBE.  In other words he did not own MOBE. The true owner of MOBE is Matt Lloyd. John Chow claims that he made $1.7 million in his first year promoting MOBE and he had a picture of the check to prove it. So that seems fair enough.
MOBE offers training to small businesses and online entrepreneurs. They teach their customers how to set up, launch and run an online business through their 21-step training system. In addition to the basic training there are also workshops and live events. And for those who want a more one-on-one experience they also offer personal coaching to help online entrepreneurs start and grow their businesses. The training is broken into five different levels.
The first level is the Silver MasterClass. The Silver level is the basic phase and shows you how to build a solid foundation for your online business. It also helps you determine if you have an entrepreneur mindset. This is the getting started phase. It entails an eight-module online training program covering 15 different topics. The cost of this level is $2,497*.
The next level is the Gold MasterClass. At this level you can learn how to generate leads and build a solid basis for conversion. The Gold masterClass level is in the form of an online event that covers a number of training topics relating to growing traffic and creating sales. The cost of this level is $4,997*.
The third level, the Titanium Mastermind, claims to show their students how to scale their business into a million-dollar machine. This involves an 18-day training program. Three of those eighteen days involves a training retreat at a remote location. The last sessions were in Costa Rica. So you not only have to pay for the training but it appears that you may also have to cover hotel and airfare expenses as well. This training shows you how to build systems, leverage tools and talent, and how to implement advanced marketing techniques. This level costs $9,997*.
The fourth level is known as the Platinum Mastermind. This level offers a 20-day intense wealth-building and asset-management training program. The training is usually set in some tropical paradise location like the Caribbean or the Pacific. This training claims to offer help to scale your business to 7-figures or more by investing and protecting your assets. This level costs $14,997* plus a monthly fee of $295*.
The fifth and final level of the MOBE program is the Diamond Mastermind. In this level people are taught how to sell their businesses for the biggest possible value. It assumes that you've already built a solid business that is making 7-figure levels of income each year. It teaches you how to sell that business that would set you for life. This level is the most costly of all and is valued at $29,997*. But if you're making a 7-figure annual income then that's a pittance.
Who is MOBE for?
The entire MOBE system is not for everyone. You should ideally move up to different levels as your business grows. So someone who just started in the online business world won't go for the Platinum or Diamond levels, unless you want to learn the system so you can either promote it or teach it yourself. So, if anyone tries to sell you higher levels at a point in time when you are not ready then that should be a red flag.
Can you Make Money from MOBE?
John Chow is making money (and lots of it) from this program. He claims to have made $1.7 million in the first year. Many people tend to get blown away by such a high, income level and start imagining that they too, can do the same. While that may be true there are a few things you have to understand. Chow has been in the online business for quite some time (years) and has amassed a huge following (tens of thousands of leads). So all he has to do is milk his email list of thousands of followers and he is bound to get a few sales as these followers are warm or hot leads. People who are now starting an online business (under one year) do not have such a luxury and so, it becomes difficult to reach sales of $1.7 million in the first year or two. Another caveat is that John has a lot of money to pump into ads and what not, which newbies do not.
Is MOBE a Legitimate Opportunity?
PROS:
1. John Chow is a serious-minded individual and a successful online entrepreneur. If he is promoting and selling the product then we know that it is good quality. For all intents and purposes, MOBE appears to be a good quality product.
2. Unlike many other training courses and ebooks, MOBE offers some level of coaching, which is always great for newbies.
3. When you promote the product and get a lead, MOBE has a call centre of sales representatives that will call your leads for you to close the sale.
4. MOBE has great potential to earn passive income.
CONS:
1. First of all, it is quite expensive. Most people who are now starting their online businesses do not have $2,500 lying around just like that to get started and then another $5,000 to continue. That's virtually $7,500 plus the monthly subscription of nearly $20 in a matter of a few weeks/months. Most people choose starting an online business precisely for the low capital requirements it involves. And remember, this money is spent even before you earn a penny. Plus, when you consider that there are tons of other excellent training programs out there, such as the one I use for my business, which cost me less than $1 a day, then you have to consider whether the high prices of MOBE is really worth it.
2. The second drawback is the frequent upselling. A certain amount of upselling is alright. Heck, KFC and McDonalds do it everyday with their combos and special offers, such as super sizes. But there's a line that needs to be crossed. When you're doing a training you don't want to waste your precious time watching videos and reading content that has a main purpose of selling you something disguised within the context of 'training'.
3. The third downside is that while you do get to learn a lot of techniques and systems for starting and running an online business, most of the training is focused on selling MOBE products. I personally believe that training should not pigeon hole you into taking advantage of one opportunity. There are literally thousands of products out there that you can sell in just about any niche.
4. While it is not promoted as an MLM (multi-level marketing) scheme, MOBE has certain characteristics of a classic MLM. For example, the alternative name is My Two-Tier Business (MTTB). That name alone suggests that there are tiers or levels to this marketing system.
5. While MOBE has the potential to earn passive income, you only truly benefit when you move higher up the levels. You have to first buy-in to the program before you can sell it.
6. As I indicated earlier, there are 21 steps. However, the Silver and Gold cover only the first 6 steps. To move to steps 7-21 you need to get the Titanium and Platinum. And you cannot get a commission unless you buy into them yourself. That's nearly $25,000.
7. A question that I had from the very beginning I discovered MOBE was how come they had so many names or name changes – first My Online Business Empire then My Own Business Education and My Two-Tier Business? Name changes could possibly be a red flag.
The Final Verdict on MOBE
If you're setting up a business (online or offline) you have to spend some money in order to make money. There are certain key investments that you cannot avoid in building and running any kind of business; training is one of them. However, setting up an online business, especially if it's a blog or you're into affiliate marketing or even if you are developing your own e-product, then it should not cost you thousands of dollars to get started. Most affiliate products out there do not request a dime from you to be able to promote their products. So if you are asked to buy before you can sell, then that should be a negative sign.
Be that as it may, if you want training and coaching then MOBE seems to be legitimate. However, as I said earlier there are other really great training programs that would cost you a LOT less. I can't tell you what to do but it is entirely up to you. My #1 recommendation online training program won't cost you an arm and a leg. So if you want you can check it out. Entirely up to you.
Leave a comment below and let me know if you have had any experience with MOBE/MTTB or what you final conclusion is after reading this article.
---
* NB: All prices are in United States Dollars and are based on what is advertised as at August 2017. All levels include an initial fee of $49 and a monthly fee of $19.95