How to use QUIZZES to grow your email list – Apple is Doing it too
Program name: The Ask Method
Owner: Ryan Levesque
Rating: 10/10
Signed up: I am a current student of the program
It's So Weird it Just Might Work
Want to know the one weird tweak that's responsible for growing one business from $12,788/month to $117,604/month…
And that's currently generating 52,326 email subscribers PER DAY?
It's SURVEYS!
Now, if you had told me this a few years ago, I would have laughed like crazy. But that's before I saw what Ryan Levesque is doing.
He's using a method so powerful that it catapulted him from making $0 to $25,000 a month in 18 months in his very first business selling orchid care guides…  Imagine that!
And the best part is, it works in any business….
From mega-corporations like Apple… LEGO… and Tesla…
To solo online businesses that are just starting out, like mine.
And in this NEW video training series…
He'll be breaking down the "ASK Phenomenon"…
The counterintuitive way of using surveys…
That lets you figure out what people want to buy…
BEFORE they even know it themselves.
And how YOU can build or grow a successful business using the SAME method.
Now, Ryan's been teaching about the ASK Method for a few years now…
But there are some new things that he's NEVER revealed publicly…
Until now.
It's all here in this FREE training video: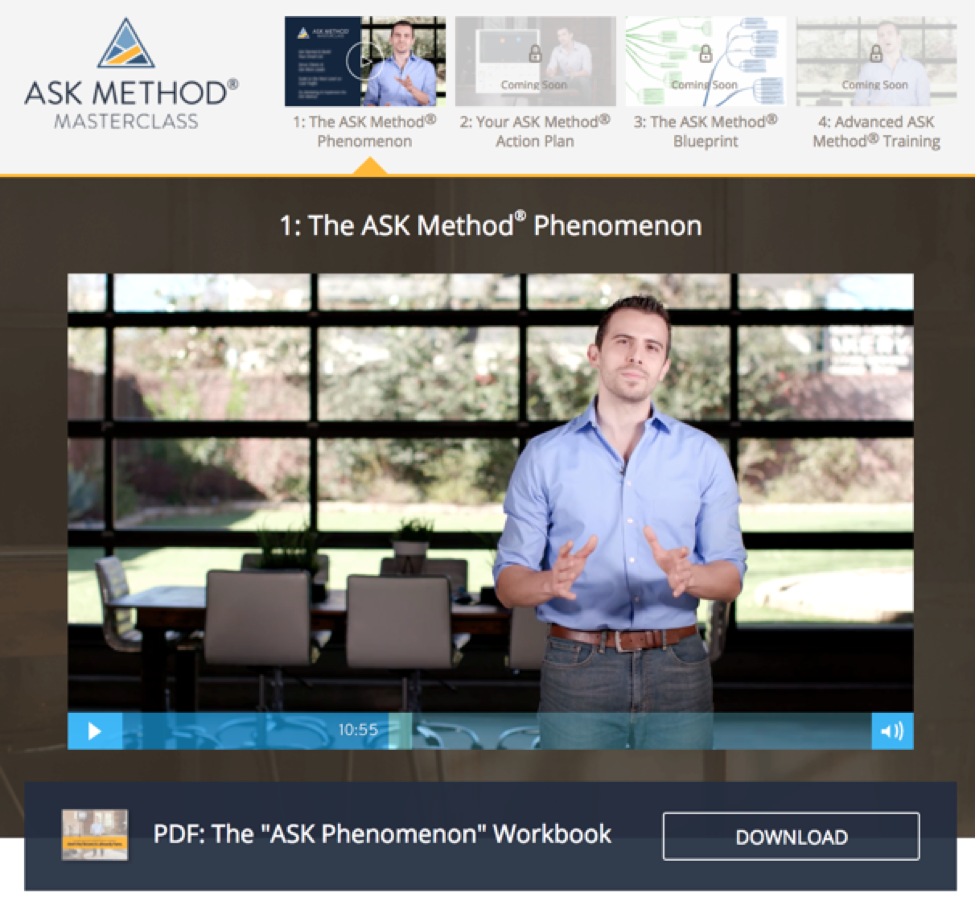 Ryan teaches a simple Google trick that I think you're going to LOVE. It gives you the ability to peer deeper into your market, or any market you desire.

My Review of the Program
I joined the Ask Method Masterclass back in July 2017 and what I've been learning is revolutionary.
At first, I thought the investment was a bit too high.
But then Ryan offered a 30 days money back guarantee, no questions asked.
So I thought, what the heck. I've got NOTHING to lose.
So I delved right in – head first.
After starting, I was wondering if I was way in above my head.
The teachings were more advanced than I had originally bargained for, but Ryan showed us how anyone could use the methodology – those now starting off an online business with absolutely no leads, lists or contacts.
I'm still in the class, on the second module – Segmentation.
There are three modules with over 70 classes in total. All broken down in easy to follow formats.
You'd get workbooks, a T-Shirt and other cool stuff delivered in the mail.
You get to join the exclusive Facebook community where you can share and learn and grow with other like-minded individuals.
Module 1 – Discovery – Understanding your market and learning to speak their language using the Ask Method.
Module 2 – Segmentation – Breaking up your Niche into smaller groups to optimize sales using the Ask Method.
Module 3 – Launch – Launching and scaling your business to boost traffic, grow leads, and increase sales using the Ask Method.
What was more amazing is that Ryan opened up the back end of his own business and showed us exactly what he does, step by step, to reach success.
He even did a case study of a newbie just like me. He is the owner of Fuzzy Yellow Balls. And sells tennis lessons online.
After implementing the Ask Method techniques in his business he went from nearly $0 to over $60,000 in revenue in a matter of a couple of months.
Fuzzy Yellow Balls even opened up the back end of his business and showed us what he did step by step, to reach success. It was amazing.
Even if the Ask Method is not for you, you can still take advantage of this free training video series here.